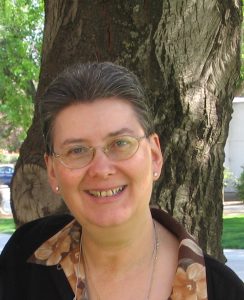 Kathryn Marocchino is a professor at California State University Maritime as well as a death educator, grief counselor, trained hospice volunteer, and author.
She pioneered her campus's first service-learning course in death and dying in 1999 while directing the Community Service Learning Center, and is now advisor to the CMA Community Cat Club.
She also offers pet loss support and animal hospice information through The NHFP's help-line and has organized an annual Pet Remembrance Candle Lighting ceremony in conjunction with the Humane Society of the North Bay since 2006. Kathryn has trained pet loss support group facilitators and held workshops on compassion fatigue while continuing to lecture on animal hospice at every opportunity. Her articles on the subject were the first of their kind to appear in both professional journals and lay publications.
She also organized the first, second and third International Symposia on Veterinary Hospice Care at UC Davis, was a founding board member of IAAHPC and is now a co-founder of GRACE. In 2005, Kathryn and her husband Gianfranco were awarded the President's Lifetime Volunteer Call to Service Award for their work in The NHFP. They currently care for a colony of feral cats, several of whom are special needs, seniors or in hospice care.