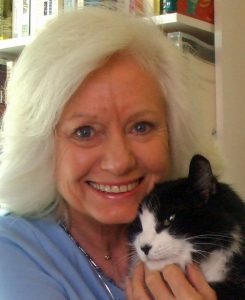 In over two decades, Gail has cared for more than 600 senior and special-needs animals, offering hospice-assisted care followed by a natural dying process. Gail and her husband, BrightHaven co-founder Richard Pope, received the prestigious Jefferson Award in 2014 in recognition of their dedicated service to this very vulnerable animal population.
Gail is a founding board member of IAAHPC and now part of the GRACE Consortium. Gail has had an international consultation practice since 1990, serving veterinarians and animal caregivers interested in BrightHaven's animal hospice protocols.
She has also been a presenter at the International Symposia on Veterinary Hospice Care and at IAAHPC Animal Hospice conferences.
The author of several publications addressing various aspects of care for elderly animals and animal hospice, Gail also collaborated with Dr. Amir Shanan on a chapter devoted to the natural death process for an upcoming veterinary textbook on palliative and hospice care.